Please be advised that this post contains affiliate links. Following one of these links and making a purchase may result in us receiving compensation.
Getting paid to write stuff online is an excellent opportunity if you know how to go about getting one of those freelance writing jobs. These jobs could be writing articles, stories, and maybe even scripts for tv shows, movies, and Youtube videos. The best part of it is that you can work right in your home, there is no need to have a huge commute!
So what steps should you be taking to start down the road to freelance writing jobs?
Make sure your writing is up to par. Being a good writer doesn't mean you're the best of the best. It means you're practicing as much as possible, and part of that practice is reading. Read anything you can, books, magazines, blogs, and newspapers. The written word is your friend.
You'll need a computer and an internet connection. Without these, you won't be much good as a Freelancer. If you don't have them, perhaps you could work in a local library?
Writing jobs can be found online. There are plenty of them, but before you have established yourself as a writer with a portfolio it can take some time to snag the big clients. There are however plenty of websites for beginners, and feel free to ask family and friends if they know anyone looking for a writer!
Practice, and keep getting better. The more you write the better you'll get at it. One word at a time.
Being successful at freelance writing jobs doesn't happen overnight, and it will take time before you start seeing your new career coming together. If you have the willpower to stick to it this could be a brand new era in your life. If you can't find paid jobs right away, don't be afraid to start a blog, send letters to the editor, and do anything else you can think of to get your written word out there!
If you're looking for an easy way to get your feet wet, you can always check out PaidOnlineWritingJobs.com.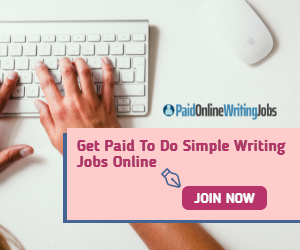 Do Freelance Writing Jobs Pay Well?
Pay received for a freelance writing job varies wildly depending on the person hiring the writer, the writer, and the job itself. Some writers make a boatload of cash per article, but their articles have shown time and again to be of the highest quality. As a beginner, you won't have the advantage of your reputation preceding you. Don't worry, you will get there if you put in the time and effort.
Freelance writing is a very competitive field. When you first start out you may find you have to accept low-paying jobs just to make a buck. That's okay, that's where most of us start. Each job will continue to build your reputation though, and your writing skills will improve each time. As your portfolio and skills improve, you will start to be able net better-paying clients. Those clients will tend to start bringing in more cash.
As with anything worth doing, you can make it as a freelance writer if you keep at it and put in the effort. It's not a get-rich-quick scheme, but you can certainly make a living out of it.
Is Freelance Writing Really That Hard to Break Into?
Getting to the point where you are pulling in a living wage just from freelance writing is a journey to be sure, especially if you are starting out as a complete novice. The market is competitive and standing out is difficult at first. With the right mindset though, you will slowly see your writing, prospects, and bottom line improving.
So keep these things in mind as you begin your career looking for freelance writing jobs.
Build a portfolio! This is where having a blog comes in, alongside getting your name attached to things that you've written. Perhaps letters to the editor, or guest blog posts. All of this becomes your body of work. It showcases your writing skills and that will land you jobs.
Reach out to other writers on social media and even local conventions if you can. Networking is important in every industry.
Understand that you'll start small. The rewards will be small. The jobs will probably be small. But, over time, you'll nurture this into a career.
Always be polite and professional. I cannot overstate this part. You may be asked for revisions, you may receive criticism. You need to accept this and grow from it. Don't let people walk all over you, but try to understand that they have a need you are filling, and if you ask the right questions, they will tell you how.
Write all the time! Consistency is key. Keep writing. Keep submitting. Keep applying. It will add up!
Breaking into the world of freelance writing jobs can be hard. But I believe that with the right motivation, and putting the time in, you can succeed.
As always, for more about online marketing, blogging, writing, and more, check out Top Level Finds!